The New England Food Allergy Treatment Center's food allergy desensitization programs are based on clinical effectiveness as a result of "the positive findings" from several nationwide studies.  Read on to learn more about our Center's results, or the national clinical trial findings farther down the page.
Our Peanut Desensitization Clinical Results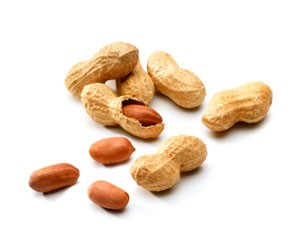 To date we have treated over 1,300 peanut allergic patients 2 years of age to adulthood.  To our knowledge, this is the largest number of patients treated at one Center with oral immunotherapy (OIT) to peanut. Over 85% of patients have been able to be successfully desensitized. Most of them are consuming 3 or more peanuts daily.  The goal of therapy is to have patients consume up to 3 peanuts (or equivalent in peanut M&M's or peanut butter) daily.  Patients are seen at our Centers for 'up dosing' every 2 weeks and the process typically takes 9-10 months.  Patients may then have oral challenges performed to peanut.  If passed, they can consume as much peanut they would like in most any form and reduce their daily dose requirements.
We have very positive experiences and success at NEFATC and have examined 'quality of life' data by having parents/adolescents/children complete questionnaires before treatment and when patients reach the maintenance dose.  The results are excellent. Oral immunotherapy to peanut greatly improves quality of life!  We have published our results in the Annals of Allergy, Asthma and Immunology (September, 2012).
What does improved 'quality of life' mean?
Parents report that after oral peanut desensitization their children are less anxious about food and going to new places, less concerned that they will have a reaction, have less physical and emotional distress, are less concerned about eating in restaurants, and feel safer when going to vacation destinations.  The children are also less concerned about being left out of activities involving food and have less frustration from social restrictions.
When adolescents and children filled out similar questionnaires about themselves, they report similar improvements in quality of life when they reached the 'maintenance dose' of 4 peanut M&M's daily.
In The News
Wall Street Journal article: A Controversial Treatment for Peanut Allergies (PDF), or read on the WSJ website 

Channel 8 news story about the New England Food Allergy Treatment Center
What Patients Are Saying
Real patients with peanut allergy and family members describe their experiences
National Peanut Desensitization Clinical Study Results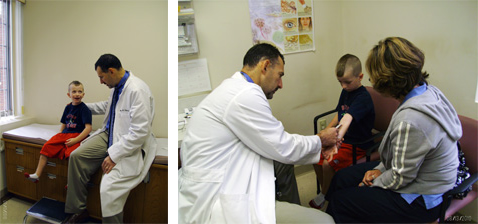 Recent clinical studies in food allergy at research centers such as Duke University, University of Arkansas, Mt Sinai Medical Center and Johns Hopkins have shown that a procedure called oral immunotherapy can be performed safely and effectively in people with peanut, milk, egg, and sesame allergy. This experimental therapy involves consuming gradually increasing amounts of these foods over weeks and months resulting in desensitizing allergic individual to these foods. The goal in desensitizing patients is so that accidental exposures should not result in clinical symptoms. This should result in reduced worry, fear, anxiety, and improved quality of life.
The physicians at the New England Food Allergy Treatment Centers, LLC have many years of experience with treating patients with food allergy and conducting clinical research.
We believe the data is sufficiently compelling that these studies can be expanded upon to more patients with food allergies, and as a result have initially started desensitizing individuals with peanut allergy.  Clinical studies have demonstrated that oral immunotherapy with peanut can be performed safely in children.  Over time we continue expanding to food allergens such as nut, milk, egg, and sesame products.
Here are just a few of the clinical studies for reference:
Hofman et al. (J Allergy Clin Immunol 2009;124:286-91) examined the safety of a peanut oral immunotherapy (OIT) protocol in children with peanut allergy. The purpose of the study was to examine safety during the initial escalation day, buildup phase and home dosing phase. Twenty of 28 patients completed all phases. Patients were more likely to experience allergic symptoms during the initial escalation day when they were in a closely monitored setting than during other phases. All allergic reactions observed responded to treatment and most patients were able to continue with the OIT protocol.
Blumchen, K et al (J Allergy Clin Immunol 2010;126:83-91) examined the safety and efficacy of long-term OIT in children with peanut allergy. They observed that a slow, long-term build-up protocol (as we would be following in our study) resulted in less significant allergic reactions and improved efficacy compared to a 'rush' protocol.
Jones et al (J Allergy Clin Immunol 2009;292-300) demonstrated that peanut oral immunotherapy induces clinical desensitization in peanut with significant longer-term humoral and cellular changes.
Clark et al (Allergy 2009;64:1218-1220) (Ref 4a) demonstrated a successful oral tolerance induction in children with severe peanut allergy. They reported a substantial increase in dose threshold after OIT in the small population of children treated. Taken together, these studies have shown that oral immunotherapy to peanut can be performed in both a safe and effective manner.